Mount Abu wildlife sanctuary, surrounded by the Aravalli range, was declared as a Wildlife Sanctuary in 1960. It has several sightseeing places. In shape this sanctuary is long and narrow but the top spreads out into a picturesque plateau. The rocks are igneous and due the weathering effect of wind and water, large cavities are common the rocks. The sanctuary is rich in herbal medicinal plants. About 81 species of tree, 89 species of shrubs, 28 species of climbers and 17 species of tuberous plants of medicinal importance have been identified.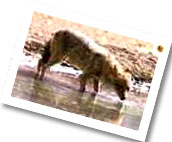 Mount Abu has a very rich floral biodiversity comprising xenomorphic subtropical thorn forest, subtropical evergreen forest along water courses and valleys. Mount Abu is the only place in Rajasthan where one can observe a variety of orchids. The place is also rich in bryophytes and algae.
The sanctuary provides an ideal habitat for Sloth Bear. Animals found here are Sambhar, Jungle Cat, Wild Boar, Pangolin, Rate, Small Indian Civet, Wolf, Hyaena, Jackal, Indian Fox, Langoor, Mongoose, Indian Hare, Porcupine, Hedgehog, etc.